Ian and I had the best getaway staying at The Omni Grove Park Inn in Asheville the other month! It was during my first trimester of my pregnancy and during busy season, as well, so you can definitely say that it was nice to get away for a weekend and relax. Most of our time was spent on the grounds of the Omni Grove Park Inn, but we went out to dinner once in downtown Asheville and spent all day Sunday in Asheville, as well. I am sure we will be visiting Asheville again very soon, so I am going to keep adding all of my recommendations to this Asheville Travel Guide list! But for now, here is what I have:
Asheville Travel Guide
What to know
Asheville is the cutest Bohemian city in North Carolina's Blue Ridge Mountains.
Downtown Asheville is filled with cute shops, restaurants, and quite a few breweries. In fact, Asheville has more breweries per capita than anywhere else in the U.S.
Asheville also has many spas, hiking trails, and fantastic views.
Where to stay
Like I mentioned before, we stayed at the Omni Grove Park Inn and absolutely loved our decision – it was the perfect place to stay! It was not directly in downtown Asheville, so we were able to get away from the beer-drinking crowds whenever we wanted to, but we were close enough to take a 5-10 minute Uber to grab a bite to eat. Check out my full review on the Omni Grove Park Inn – you have to go one day!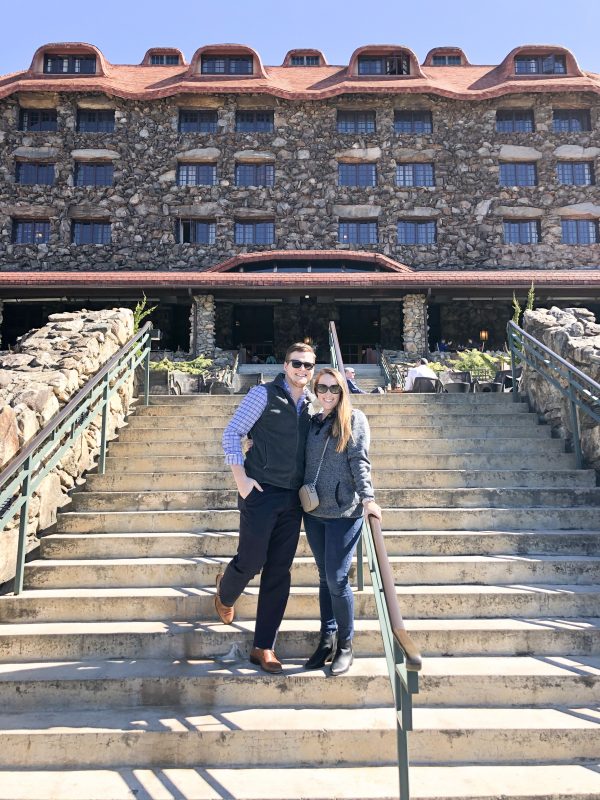 Where to eat + drink + explore
Chestnut – The best dinner that we had while in Asheville. The lobster bisque was just so-so, but everything else was perfect, especially the mussels (with green curry broth, cilantro, mint, etc.) and a duck dish that was the most amazing thing I've ever put in my mouth.
Tupelo Honey – So, I loved this restaurant so much, but I didn't realize that they also have a location in Atlanta! I try to stay away from restaurants that I could visit in my own city while traveling, but it was hands down amazing!
Blue Ridge at Grove Park Inn – Great breakfast buffet in our hotel! We normally do not opt for buffets, but this one was fantastic!
VUE 1913 – A fancier dinner option at the Omni Grove Park Inn. Not our favorite meal of the trip, but it was still a great experience!
Wicked Weed Brewing Pub – We love Wicked Weed beer in our house! I was so sad that I could not try their beers (hello, pregnancy), but Ian loved it!
Green Man Brewery
Hi-Wire Brewing
One World Brewing
The Soda Fountain – Great spot for ice cream!
The Coffee Bus – Good coffee, fun experience, cash only!
Funkatorium – Our favorite brewery of the entire trip and I was very, very jealous that Ian could drink the sours and I could not. I would go back to Asheville just to go here, haha! Also, they have killer snacks!!
Thirsty Monk – eh.
Pepper Palace – The coolest little place to get spicy sauces…and you can try them too! Yum!
Keep Reading:
The Best Stuffed Pepper Recipe
The Best Sparkling Wine in Napa Valley
Is The Ultimate Dining Package on Oasis of The Seas Worth It?