Never have I ever been so in awe of a spa resort in my life! The Omni Grove Park Inn in Asheville, NC was a dream come true for a romance and relaxation seeking junky like me. The Grove Park Inn is gorgeous, the staff are all so kind and helpful, and it's very conveniently located close to the downtown area of Asheville (but still far enough away so you don't have to deal with everyone who is brewery hopping). Seriously – the resort is amazing!
The Grove Park Inn has been on my travel bucket list for a while now. My parents visited the resort a few years ago and fell in love with it. They are constantly telling me how amazing it is and how it is their all time favorite resort! So, I had to eventually plan a trip to see the place for myself and boy, were they right. It sure is gorgeous and it was the perfect place to getaway for a quick little babymoon trip during busy season.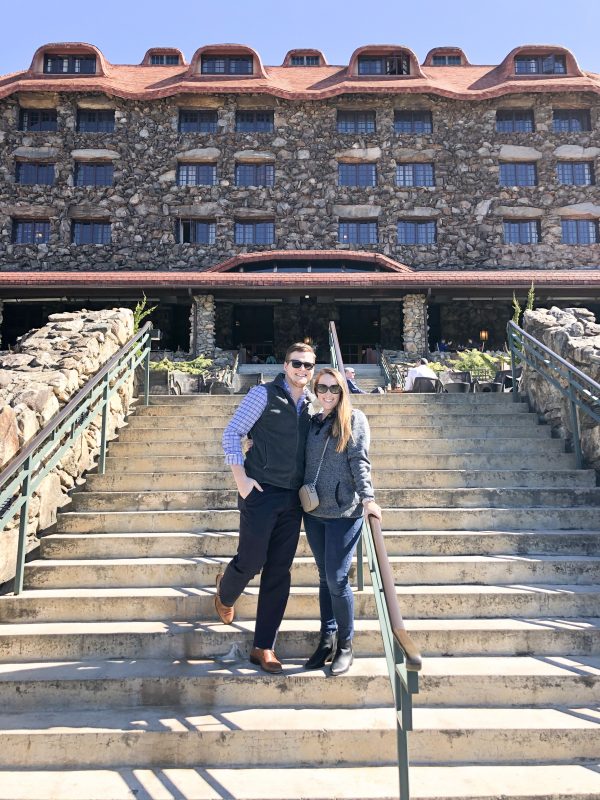 The Spa at The Grove Park Inn
If you have come from Google, I bet you are here because you want to know more about the spa at The Omni Grove Park Inn in Asheville, so let me tell you a little more about it:
First of all, it is amazing and you have to go! This $50 million investment was a great one because it has received many accolades, such as "The Best Spa in The Southeast," and more. The spa has fifteen total water features and the spa, in general, was inspired by its natural surroundings with rock walls, arches, and tunnels. It was beautiful!
Second of all, if you are booking a spa treatment, either book your services early, or wing it and cross your fingers. Of course, if you take a midweek trip, you have a better chance of getting into the spa vs. a weekend trip. We vacationed on a weekend and thought that we were not going to get in. We called the spa on Friday and they said they were totally booked for Saturday, but when we checked for cancellations on Saturday morning, they had literally one pedicure, one massage, and one facial appointment open and we snagged the massage (for Ian) and the facial (for myself). We were one of the lucky ones, though because so many people were not able to get into the spa.
Since it was fully booked, I thought it was going to be very crowded, but I was pleasantly surprised that the spa was still so peaceful and not crowded at all. The seating was a little hard to get at times (especially the chairs by the poolside fire), but we still found places each time we wanted to and it was just so insanely relaxing + romantic.
When you purchase a spa service, you also receive all day access to the facilities and trust me – you want to take advantage of that! Normally, I believe you can purchase spa access separately, but they were not selling access the weekend we visited since all of the services had sold out, so be aware of that and just purchase a spa service (or a club level room) to be safe.
Within the spa, you can take advantage of their water features, fireplaces and fire pits, complimentary tea, coconut 'elixir,' and a couple of snacks, a gratitude tree, coloring books, cozy blankets, infused washcloths, and much more.
Being pregnant, it was recommended that I only use the two larger indoor pools (heated to right around body temp, I believe) and the inhalation room, but it was still beyond relaxing. I did jump into one of the therapeutic waterfall pools for a few minutes, because I just had to try it out. Apparently, when you let the waterfall go across your neck and back, it is said to relieve pressure and tension. It was such a cool experience! My favorite pool was the mineral lap pool because it has underwater music, fiber-optic stars overhead, and a fireplace right next to it for relaxing. The space around the pool was very dark and had many lounge chairs – perfect for napping!
Our services were also amazing! My facial was so relaxing and they said it would be great for pregnancy, as well. Ian's massage was great (and that's saying a lot for him because he usually hates them!). Overall, we had the most relaxing and romantic day at the spa and highly recommend it for everyone visiting Asheville! Take my advice and either book in advance, or go on a midweek trip when they might have more availability!
Our Room
Our room was beautiful! First of all, the shower was amazing – I wish my shower at home looked like that! The bed was super comfortable, the room was very spacious, and the view was over the top beautiful.
Two little aspects that I absolutely loved about the room were the complimentary coffee machine (a Keurig) and the complimentary waters. I think I mention this every single time I stay at a resort with complimentary waters, but it truly does stand out to me. It is so easy to get dehydrated on vacation because typically, when you go out to eat, you get alcoholic drinks (none for me right now, obviously) which dehydrates you, or soda, tea, etc. which also dehydrates you. Nobody ever thinks about the importance of water on vacation, so when you get back to your hotel room and realize that you are insanely thirty, you either have to buy the water in your room (usually pretty pricey), or you have to drink out of the sink (obviously, not ideal). Needless to say – after this very long rant – I really appreciate complimentary water in hotel rooms.
Next time, I do think we will upgrade to a club level room, just to get all of the added perks like spa access, but the room we had was more than perfect for a short weekend getaway, especially since we spent very little time actually in our room.
The Common Areas in The Grove Park Inn
There are so many places to just hang out in and around the hotel and there are so many little corners to explore! In fact, if you explore enough, you might even see the "Pink Lady," which is a rumored ghost that has been roaming the halls of the Omni Grove Park Inn for over half a century.
According to the hotel, she is called the Pink Lady because of the pink gown that she is always wearing when spotted. The belief is that she was pushed to her death (or possibly jumped) in the Main Inn when she was a guest in the 1920's. Now, people – especially children – still claim to see her floating through the halls.
Although we did not see the Pink Lady during our stay, we really did have such a great time exploring the grounds and relaxing. Our favorite spot in the entire hotel was the gorgeous Main Lobby and we were not the only ones that enjoyed this spot – everyone seemed to be there! Each night, we would always grab a drink and try to snag a spot in front of one of the gorgeous 36-foot-wide stone fireplace. These fireplaces rise two stories high in the main lobby and they both burn eight-foot logs. They were so cool! We would sit there while chatting and listening to the live music before heading to bed. There are other fireplaces throughout the hotel – we also really liked the outdoor area of Edison's.
Dining
I have another post about dining in the works, but to give you a short summary, we ate in downtown Asheville a couple of times, but we also had breakfast at the hotel once and dinner at the hotel, in their restaurant Vue 1913 once, as well. Both were so good! Vue 1913 was a fancier option, which would be perfect for any special occasion, and the breakfast was a buffet style meal that was very, very good. I am usually not a fan of buffets, but this one had an omelette bar, as well as other healthy options such as fresh, cold pressed juice, fruit, lox, oatmeal, and more. I was also a huge fan of the copious amounts of bacon and the doughnut bar! The breakfast buffet was recommended to me by my dad, so I had to go, and it did not disappoint! More information to come on our meals in my next post about dining in Asheville!
When To Visit The Grove Park Inn in Asheville
This depends on what you want to do and what you want to see. Weekends are usually pretty crowded, so I would highly recommend taking a short midweek trip to avoid most of the crowds and get the chance to get away from work! Midweek travel is usually better anyway because you not only avoid the crowds, but you can occasionally get different deals and perks. The fall and spring months are perfect weather wise, but The Omni Grove Park Inn is apparently absolutely magical during Christmas-time. This Christmas, we will have a little baby (yay!) and I'm really hoping to go back to enjoy the magic with my little family.
We had a blast at The Omni Grove Park Inn and cannot wait until our next trip! If you want a really relaxing and gorgeous vacation, head their way for the perfect midweek trip!
Thank you so much to The Omni Grove Park Inn for hosting us! It was truly an amazing and unforgettable trip!